Mapesil AC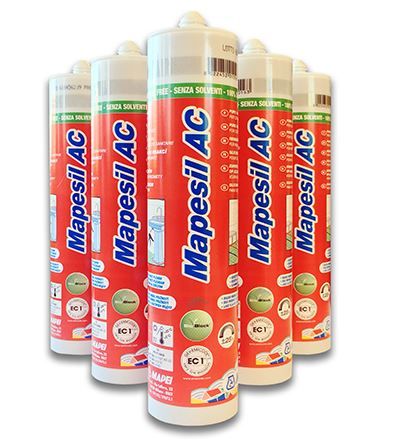 Description
Solvent-free, acetic-cross-linking mildew-resistant silicone sealant.

Applications:
Interior, exterior, ceramic tile floor and wall sealing of expansion joints of ± 25% expansion of the initial size in swimming pools, bathrooms and showers.
Mapesil AC can also be used for forming a perfectly elastic gasket between different elements in constructions, mechanical engineering, ship-building, automobile manufacturing, etc.
N.B. Mapesil AC adheres perfectly to glass, ceramics and anodized aluminium.
If treated beforehand with Primer FD, adhesion is good also on concrete, wood, metal, painted surfaces, plastics, rubber etc.
Mapesil AC is classified F-25-LM in compliance with ISO?11600 standards.

Technical data:
Formation of surface film: 10 minutes.
Shrinkage during cross-linking: 3.5%.
Speed of cross-linking: 4 mm a day; 10 mm in 7 days.
Ultimate elongation: 800%.
Movements under working conditions: ± 25%.
Shore-A-Hardness: 20.
Colours: 26 and transparent.
Application: sealant gun.
Storage: 24 months.

Consumption
depends on the size of the joint.

Packaging
310 ml cartridges.

Colour swatches on website may vary to true colours of product.