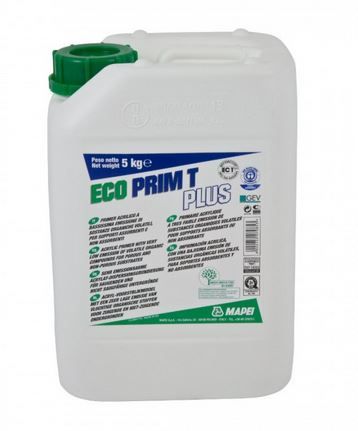 ECO PRIM T 5KG
Description
Solvent-free acrylic primer with a very low emission level of volatile organic compounds (VOC) for absorbent and non-absorbent substrates.

Features;

All purpose primer for interiors to improve adhesion of levelling compounds on all absorbent and non-absorbent surfaces
Solvent free, low odour acrylic primer in water dispersion with very low emission of Volatile Organic Compounds (VOC)
Easily applied, ready to use white coloured liquid which can be applied by brush or roller

Applications;

Suitable for levelling and smoothing new or existing substrates prior to the installation of the final floor covering in areas where resistance to heavy loads and wheeled traffic is required

TECHNICAL DATA:
Consistency: fluid liquid.
Colour: white.
Dilution rate: as is on non-absorbent surfaces, 1 : 1 or 1 : 2 on absorbent surfaces.
Waiting time before applying smoothing compounds: 1-5 hours according to the surrounding conditions and the absorption of the substrate.
EMICODE: EC1 Plus - very low emission.
Storage: 12 months.
Application: roller or brush.
Consumption: 0.10-0.20 kg/m².
Packaging: 5 and 20 kg drums.