Home

/

TOPCEM PRONTO 25 KG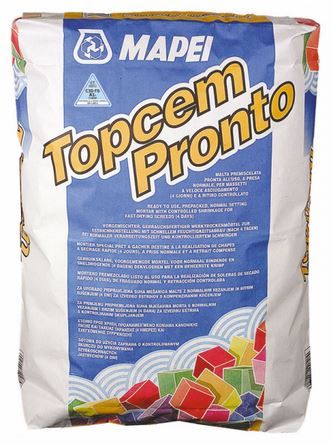 TOPCEM PRONTO 25 KG
Description
Ready to use, pre-blended, normal-setting mortar with controlled shrinkage for fast-drying screeds (four days).

Topcem Pronto is used to form bonded, unbonded and floating screeds on new or old slabs prior to installing moisture-sensitive flooring (wood, PVC, linoleum, carpet, rubber, etc.) or any other type of flooring in areas where fast-drying screeds are required to shorten completion times.
Topcem Pronto is ready to use.
It is ideal where good quality graded aggregate is hard to find or for sites such as those in city centres where the logistics involved in mixing conventional binders can be difficult.
Topcem Pronto can be used in interiors and exteriors for screeds.
Bonded screeds require the application beforehand of a Topcem Pronto and Planicrete bonding slurry.
Unbonded screeds (more than 35 mm thick) must be laid over polyethylene sheeting.