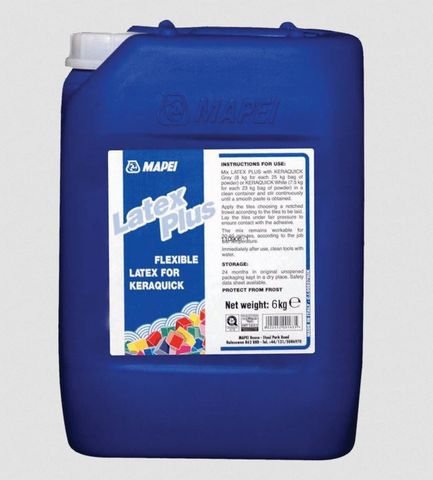 LATEX PLUS 10KG
Description
Latex admixture inducing elasticity to be mixed with Keraquick.

Applications:
Latex Plus is an admixture to be mixed with Keraquick. It improves deformability to meet the requirements of class S2 (highly deformable adhesive), according to EN 12004. A highly deformable, high performance, fast setting adhesive with no vertical slip is obtained, suitable for interior and exterior installations of ceramic tiles, stone material, insulation panels, gypsum boards, etc. Latex Plus must be used in complete substitution of batching water.
Particularly suitable for rapid installation of ceramic tiles and large size stone material slabs (façades, balconies, terraces, etc.), in swimming pools and on deformable substrates.

Technical data:
Latex Plus Keraquick
Pot life: 30 minutes.
Open time: 20 minutes.
Grouting: 2-3 hours.
Set to light foot traffic: approx. 2-3 hours.
Ready for use: approx. 24 hours
(3 days for basins and swimming pools).
Deformability according to EN 12004: S2 - highly deformable.
Application: notched trowel n. 4, 5, 6 or 10.
Storage (Latex Plus): 24 months.
Protect from frost.

Consumption
0.7-1.3 kg/m2.

Packaging
10 kg drums.